The Realities and Legalities
of Ransomware and Incident Response
There is significant misinformation about how to respond to a ransomware incident. Charlotte Baker, CEO of Digital Hands, host an exclusive roundtable discussion with former DOJ cybercrime prosecutor, Jack Clabby of Carlton Fields and Nolan Wilson and Barry Scott of Aon Risk Solutions, about the realities of ransomware attacks focusing on legal and cyber insurance concerns.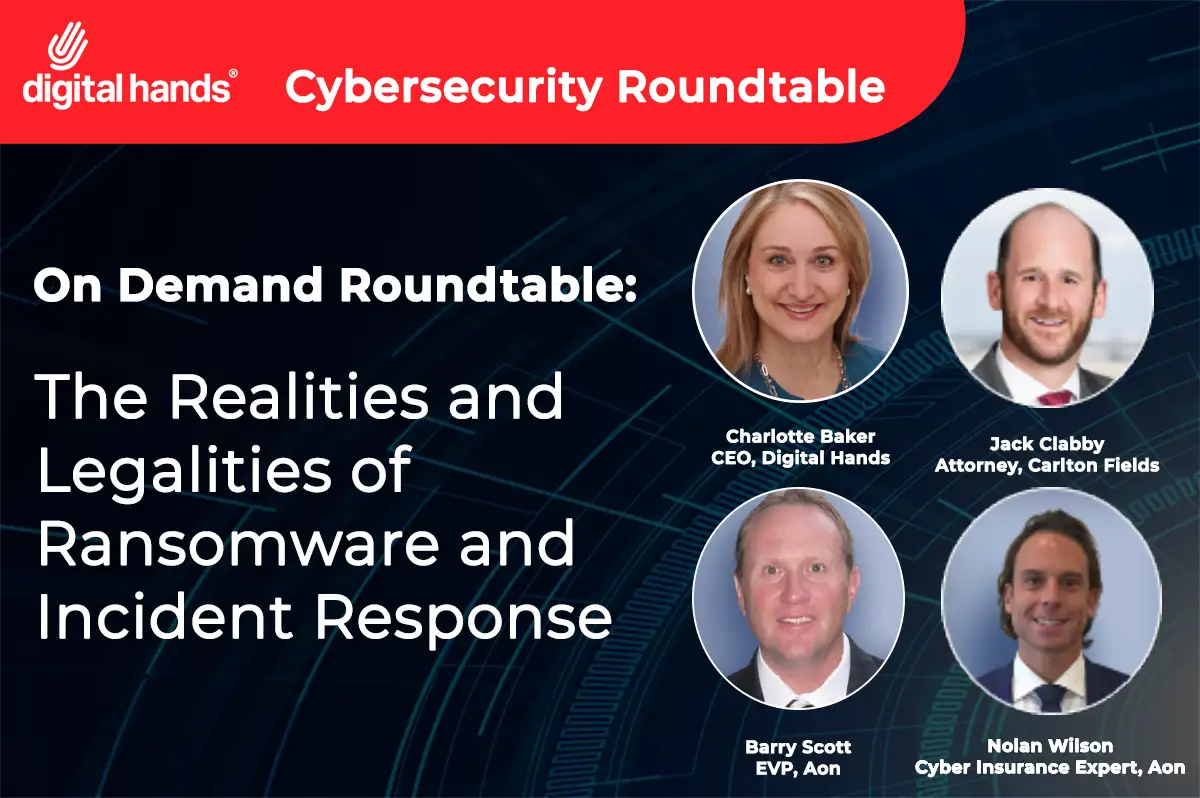 How Ransomware has evolved from encryption to criminal extortion
When to classify Ransomware as an incident versus a breach
Missteps in the sequencing of calling in your legal counsel, insurance, and cybersecurity partners
Cyber policies: How much is enough and compliance caveats that negate claims
Charlotte Baker is CEO and co-founder of Digital Hands; a cybersecurity company recognized as an award-winning pioneer in managed security services with 100% US-based delivery supporting enterprise clients. Under Baker's leadership, Digital Hands gained national recognition as a five-time Star Award Winner with the Technology Services Industry Association (TSIA) for Innovation in the Delivery of Managed Services, Complex Application Support, Customer Commitment, Integrated Services Excellence, and Innovation in Leveraging Analytics for Service Excellence. Digital Hands received the TSIA Star Award Hall of Fame 2018 for Lifetime Achievement for Outstanding Service. Baker earned a Master of Business Administration degree from Darden and a Bachelor of Science degree in Commerce with dual concentrations in MIS and Marketing from the University of Virginia's McIntire School of Commerce.
Jack Clabby is an attorney who counsels boards of directors and management on legal issues regarding cybersecurity. He also represents companies and institutions in litigation, including class actions, alleging breaches of privacy and security controls. Jack serves as a "breach coach," guiding clients through the loss or suspected loss of personally identifiable information, business interruption, and other system compromises. As an assistant U.S. attorney in New Jersey, Jack served as the Computer Hacking and Intellectual Property (CHIP) Coordinator for the Trenton and Camden offices, where he supported law enforcement investigations into cyber intrusions, data theft, and other computer crimes. Now in private practice, he is a shareholder at Carlton Fields, PA, in Tampa, Florida. He graduated from Princeton University and the University of Pennsylvania Law School.
Nolan joined Aon Cyber Solutions in March 2015 as a professional liability and cyber insurance broker. In this position, Nolan is responsible for identifying exposures and developing insurance and risk mitigation solutions related to technology errors and omissions, miscellaneous professional liability, media liability, network risk and intellectual property for all industry sectors. Nolan graduated from The University of Wisconsin-Madison with a degree in economics in May of 2005.
Barry Scott is an Executive Vice President of Aon Risk Solutions, Inc. responsible for dedicated practices in risk management, health & benefits, life and disability and investment consulting. In his role, Barry serves as the Senior Advisor for select major clients to ensure clients receive the appropriate level of resources to meet their business and risk management objectives.