The Truth About the Dark Web
During this compelling webinar Digital Hands Security Evangelist, Jeff Multz, and Ron Frechette from GoldSky Security take you on a fascinating tour into a place that very few people get to see, The Dark Web Marketplace. Jeff and Ron also share their insights into the, future of an increasingly complex threat landscape.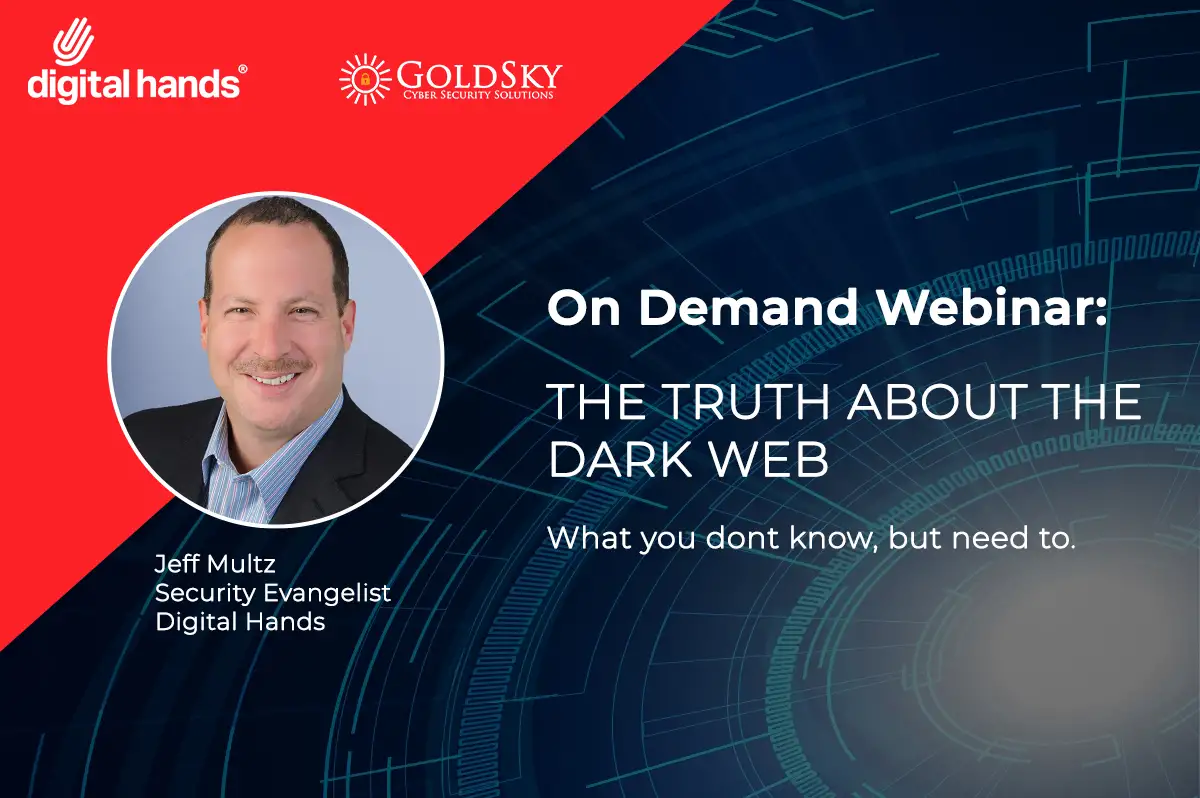 The inner-working of the dark web
How threat intelligence identifies attacks
before they happen
Why implementing basic cybersecurity
practice can mitigate getting caught in the
dark web
Jeff Multz
Multz is a seasoned security industry expert bringing 30 years of team leadership and proven success in building both channel and direct sales organizations. Jeff has built successful teams over his career that have spanned multiple industries, global enterprises, and SMB clients. A strategic technologist, Multz utilizes his vast experience to easily translate complicated technologies into relevant solutions. Prior to joining Digital Hands, Jeff spent 16 years at SecureWorks, Inc. with roles including Vice President of Sales North America, General Manager/Representative Director SecureWorks Japan K.K., and pioneer of Global Strategic Alliances and OEM. Previously, he held key leadership positions at FirstWave Technologies, Zland and was the founder of Emerging Market Technologies, Inc.
Ron Frechette
Ron serves as Chief Evangelist Officer for GoldSky Security with over 10 years of experience directing Security Risk Assessments and developing Cybersecurity Plans for various size companies across North America. Known to many as "The Cyber Coach", he is constantly studying emerging cybersecurity trends and shares his knowledge through blogging platforms, local publications and speaking engagements across various industries. Ron's area of expertise has evolved from supporting large enterprise companies to helping small-midsize businesses with their IT security and compliance needs. He has assisted various companies in becoming compliant with frameworks such as FedRAMP, FISMA, GLBA, HIPAA/HITECH, HITRUST CSF, ISO27001, NIST CSF, NIST 800-53, NIST 800-171, NERC-CIP, PCI DSS, SSAE 18 SOC1 and SOC2.